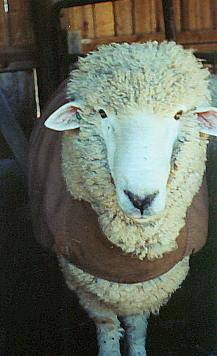 Shearing Day at Rising Meadow Farm
Liberty, NC
Saturday, February 11, 20129am until
Master Blade Shearer: Kevin FordAssisted by local shearer: Joy Moore
Soon after Kevin shears our sheep he'll head to the Golden Shears International Shearing Competition in New Zealand. He's one of a four man (actually three men and one woman!) team representing the United States. We are thrilled that he shears our sheep every year.
Since we begin shearing before Saturday, there will be some fleeces to look at when you arrive. Plan to come and help "skirt" fleeces as they come off the sheep. There's no better way to see and feel what a whole fleece is like! At the end of shearing we will have about 125 fleeces for you to see.
The Farm Store
will be open, offering Corriedale and Navajo-Churro roving, possibly sheepskins, and our wonderful Corriedale and Meadow spun yarn!

Lunch at the Farm
is a rather informal affair since we all need to eat. We'll have our usual big pots of Lamb Chili and Homemade Soup. We will also have homemade bread so bring sandwich fixings, a dessert to share, or money donations! We always eat well!
All sales in cash or check
Call (336-622-1795) or email if you have questions