Our local paper,
The Winston-Salem Journal
, asked readers to send in their favorite "red, white, and blue" recipes. We suggested this Blueberry Goat Cheese Tarts recipe.
Since we make and sell farmstead goat cheeses on our farm in North Carolina, we enjoy this tart recipe because it uses
goat cheese
! Also during the July 4th holiday, we always have an abundance of fresh blueberries and can purchase strawberries locally if our plants have already stopped producing. The tarts are a simple dessert to prepare, and the recipe is below.
Check out the food editor, and his article
A feast for the fourth: Readers offer up their recipes for a tasty celebration for more great recipes!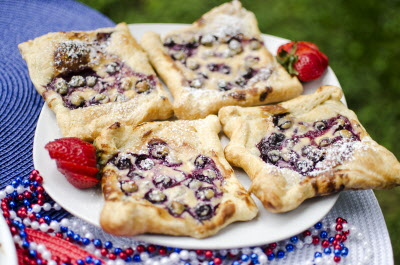 Blueberry Goat Cheese Tarts
Makes 8 to 12 tarts
2 to 3 sheets of puff pastry
1 cup goat cheese (or cream cheese, or a combination)
¼ cup honey
1 tablespoon lemon juice
1 teaspoon vanilla
½ teaspoon dried thyme
1 pint fresh blueberries, rinsed
Powdered sugar for sprinkling
Sliced strawberries (optional)
1. Mix goat cheese, honey, thyme, lemon juice and vanilla, and then fold in the fresh blueberries.
2. Heat oven to 350 degrees. Spray a baking sheet (or two) with cooking spray. Cut a sheet of puff pastry into quarters, each about 4-by-4 inches. Fold each side of each quarter of puff pastry in to make a ledge all the way around and place on a sprayed baking sheet. Add some of the filling to each piece of puff pastry. Repeat until all filling is used.
3. Bake 20 to 25 minutes until golden brown. Sprinkle with powdered sugar and top with a few sliced strawberries, if desired.
Adapted from a recipe from Marsha Torres, the pastry chef at Rhett's Restaurant in Southern Pines.